58 Clyde Road
Berwick, VIC 3806
Shop 17
Eden Rise Village
1 O'Shea Road 3806
Nurses & Support Staff
Our Support Staff includes veterinary nurses and receptionists.
You will meet them at the front counter, where they will be happy to help with most general health queries as well as give sound advice on diet, heartworm, intestinal worming and flea control for your pet.
Our nurses perform many vital roles in our hospital.
They have extensive experience in animal care both while your pet is in our hospital and assistance with your outpatient care.
In surgical cases they supervise the comfort of inpatients before, during and after procedures.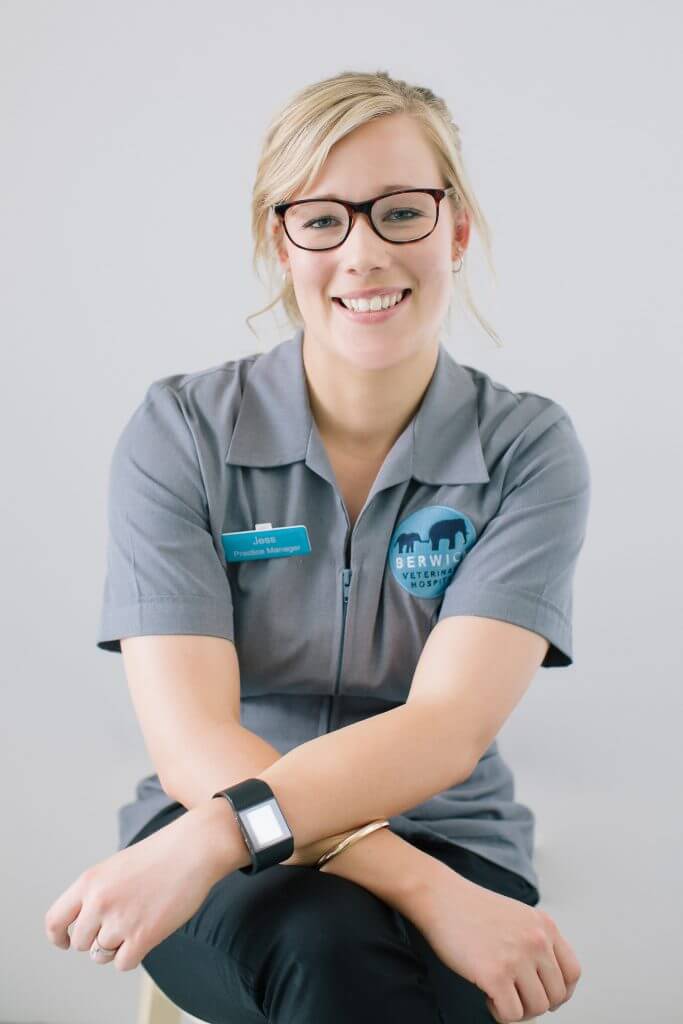 Jess
Practice Manager
Jess has worked in the veterinary industry for over 12 years, first joining our team as a veterinary nurse in 2011. During this time, she also completed a Bachelor of Animal Science and Management at the University of Melbourne. Following this she spent a few years away, completing a Bachelor of Veterinary Bioscience at the University of Adelaide.
After becoming a Mum in 2015, Jess re-joined the team, stepping into the position of Practice Manager in 2017. Jess has a special interest in business development and loves working alongside the team to provide an exceptional service to our clients and their furry friends.
Jess shares her home with husband Jacob and their two young kids Ayden and Madison. Their family wouldn't be complete without their small farm of fur babies – two golden Retrievers Abbey and Jaxson, Simba the cat, Nico and Trixie the ponies and of course their goats, cows and geese (all with endearing names of course!) 
In her spare time Jess enjoys horse riding and spending quality time with her family and friends– camping, fishing, golfing and spending time at the beach have become the favourites!
Mandy
Mandy has worked as a veterinary nurse for the past 20 years. Mandy's previous work experience involved horse work and some time spent managing clinics in North Hobart. She joined the team at Berwick Veterinary Hospital 18 years ago as a trainee nurse and has now become one of our lead senior nurses.
Mandy lives with her partner Jason, 2 dogs – Zak (Labrador) and Kaiser (English/French Mastiff x who weighs a whooping 68kg!), 2 cats – Buster and Tigger, 2 birds and 4 chickens. Mandy loves her job and couldn't imagine doing anything else.
Mandy (Min)
Mandy, also known in the workplace as Min, joined the team in December 2015. She moved from a country town where she worked as a veterinary nurse and completed Certificate IV in Veterinary Nursing in 2011. Min enjoys interesting surgical cases and does a fantastic job running our clinic Facebook page.
Min grew up on a small hobby farm, so she is no stranger to large animals. Her passion as a child and teenager was competing with her horses. After moving to suburbia, she still tries to keep a menagerie, consisting of a rescue Rottweiler, Lou, an adopted cat named Phoenix and a bearded dragon, Handsome Steve.
Her hobbies and interests include animals, cars, fishing and snowboarding.
Casey
Casey has been a veterinary nurse for over 10 years and became part of the team in June 2009. As a veterinary nurse her favourite roles include radiology and engaging with clients and their fur babies.
Her previous studies include a Bachelor of Science (majoring in zoology and genetics) and a Certificate IV in Customer Service and Frontline Business Management.
Her interests include wildlife conservation and ecology, snorkelling, roller skating and socialising with family and friends enjoying great food and drink.
Casey has two 2 rescue cats at home – Momo Takimoto and Yuki, and Evo the border collie cross.
Casey and her partner have recently become parents to a beautiful little girl – she likes to keep everyone on their toes (including the fur babies) by being up and walking at 9 months old!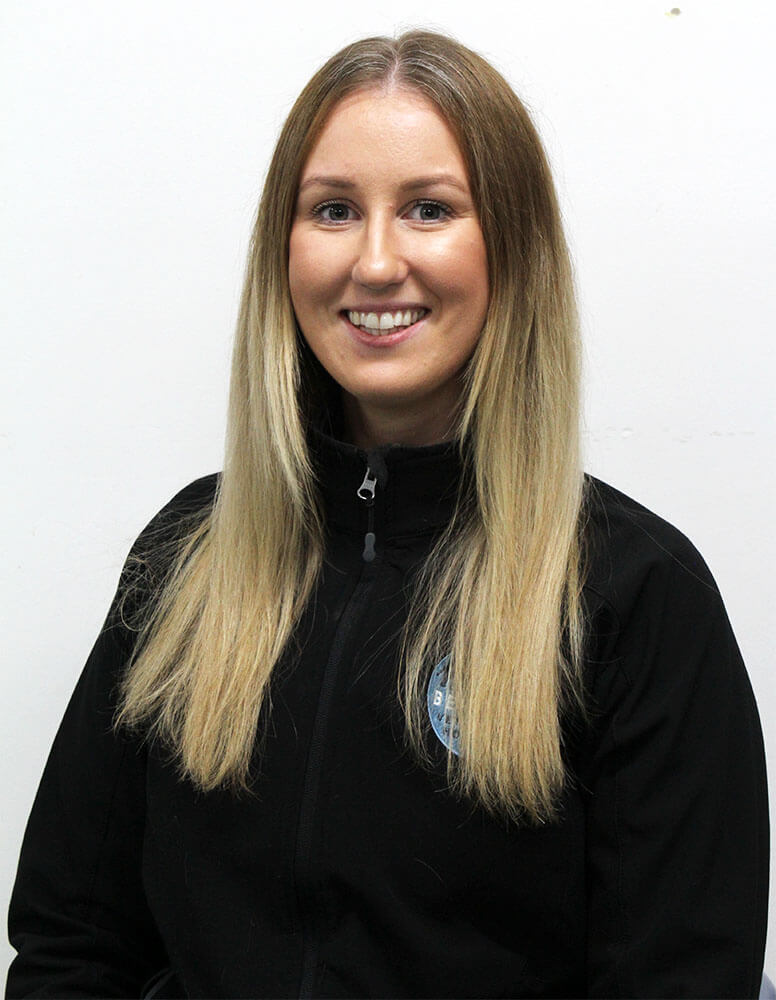 Alicia
Veterinary Nurse
Alicia joined the team in January 2018 as one of our dedicated receptionists. She loves getting to know our clients, greeting our canine friends with a cuddle, keeping baby possums warm inside her jacket and of course hanging out with Leroy, our clinic dog.
Alicia completed her Certificate IV in Veterinary Nursing in 2018. She has also volunteered in South Africa at a research through conservation park with lions, tigers and cheetahs.
She enjoys travelling, outdoor activities, painting and photography.
Alicia shares her home with two adorable (yet mischievous) cats – Billie Ruben and Bugs.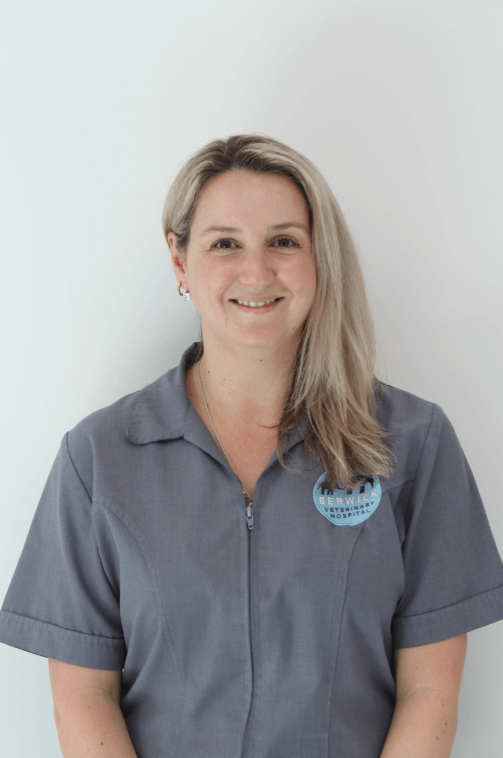 Crystal
Senior Receptionist
Crystal is our Senior Receptionist, having joined the team in April 2017. Her favourite part of the job is utilising her Vet Nursing knowledge and offering nutritional and pet care advice.
Crystal has studied vet nursing, canine behaviour and has been in the veterinary industry for over 13 years.
She enjoys spending time with her two little girls, husband and fur babies (Vegas a French bulldog, Winston a Kelpie X and Carlos a Burmese kitten).
Lauren
Veterinary Nurse
 Lauren is a qualified veterinary nurse, joining our team in 2020.
When not at work, Lauren enjoys cooking, being outdoors, trying new cafes and restaurants, going to local markets, camping and travelling.
She shares her home with Mufusa the cat, a Cavoodle by the name of Coby and Bell the Beagle.
Belinda
Animal Attendant
Belinda joined the team in 2006 as an animal attendant and oversees the weekly cleaning roster.
In her spare time Belinda enjoys visual arts, including photography. She shares her home with a rescued feline friend called Gamush.
Make an Appointment Online