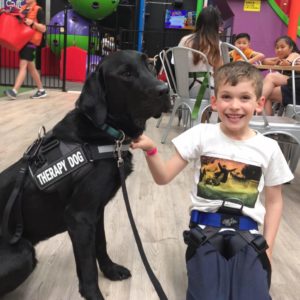 When we first met Ollie's mum, it was during a routine consultation for their family cat. We were blown away by her positivity and love for her family pet. Upon getting to know Ollie's mum, she was excited to share that her fundraising efforts had reached their goal, and they could now adopt a service support dog for her son, Ollie. She explained that Ollie has autism and every day he has difficulty negotiating the busy world in which we live. She had been hoping a speciality trained autism service dog would help Ollie find his own path, and navigate his way through the world with confidence.
There were no guarantees as to how this relationship would fare, but soon enough Ollie was introduced to a black Labrador named Irwin. These two boys have since been inseparable, a bond which Ollie's mother describes as 'profound'. Irwin 'provides companionship, sensory exposure, love and friendship. He is also able to pick up on subtle signs of anxiety from Ollie well before anyone else and intervenes – offering calm, support and distraction'.
We are so proud to share that we sponsor Irwin's veterinary care through our Healthcare Plan program. This provides for all of his consultations and any routine veterinary care, such as vaccinations, annual blood tests and dentistry. Through our relationship with Hills Science Diet and Elanco, we have also arranged for all of Irwin's food and parasite control to be sponsored.
You can keep up to date with their journey through our Facebook page, or directly through their own Facebook page, The Adventures of Ollie and Irwin. Ollie's mother also drives a fundraising campaign to help other families with autistic children adopt specialty trained service dogs.
'Since Irwin has become a part of our family, Oliver is happier, his anxiety is reduced and his ability to communicate has improved dramatically. He can focus on tasks that previously were too overwhelming. Oliver now sleeps! … We are able to go places and do things we wouldn't have attempted previously'. – Ollie's mum.