58 Clyde Road
Berwick, VIC 3806
Shop 17
Eden Rise Village
1 O'Shea Road 3806
Clyde Road Level Crossing Removal – latest updates
Last updated: 2 December 2020
As many of you will be aware, the level crossing at Clyde Road in Berwick is set for removal by 2022. As the works progress, we will endeavour to keep you informed of any upcoming delays or detours that may affect your visits to see us. The footpath and pedestrian rail crossing on the eastern side of Clyde Road, between Reserve Street and the Enterprise Avenue intersection, will remain closed until early-2022. You can detour along the western side of Clyde Road.
Scheduled Works for April
Continued relocation of underground services and installation of drainage in the area
Clyde Road will be reduced to a single northbound lane, between the princes Freeway (M1) off-ramp and Jane Street from Thursday 15 April to late 2021. Allow extra travel time through the area. 
What to expect
Lane closures, reduced speed limits and traffic management along Clyde Road, Berwick Station and local roads. 
Heavy vehicle activity, moderate construction noise and vibrations. 
Works will generally take place Monday to Friday, 7am to 6pm, and Saturdays 7am to 1pm subject to weather
conditions. 
Changes to how you travel
You can still access local businesses and residential properties throughout the works. 
For more information on accessing the hospital, please call us on (03) 9707 2655.
Alternative routes
As work on the Clyde Road level crossing continues, we would like to let you know about a recommended alternative route to take when coming from Narre Warren or the Berwick township.
If you're travelling from Narre Warren, instead of turning onto Clyde Road directly from the Princes Hwy where the traffic congestion is worst, turn right onto Coniston Avenue (before reaching the main set of Berwick traffic lights), then left onto the Princes Hwy Service Road. Drive along the Princes Hwy Service Road until you hit Millwood Avenue. From Millwood Avenue turn left onto Mansfield Street, then right onto Evan Street and finally left onto Jane Street where you can enter from our back car park.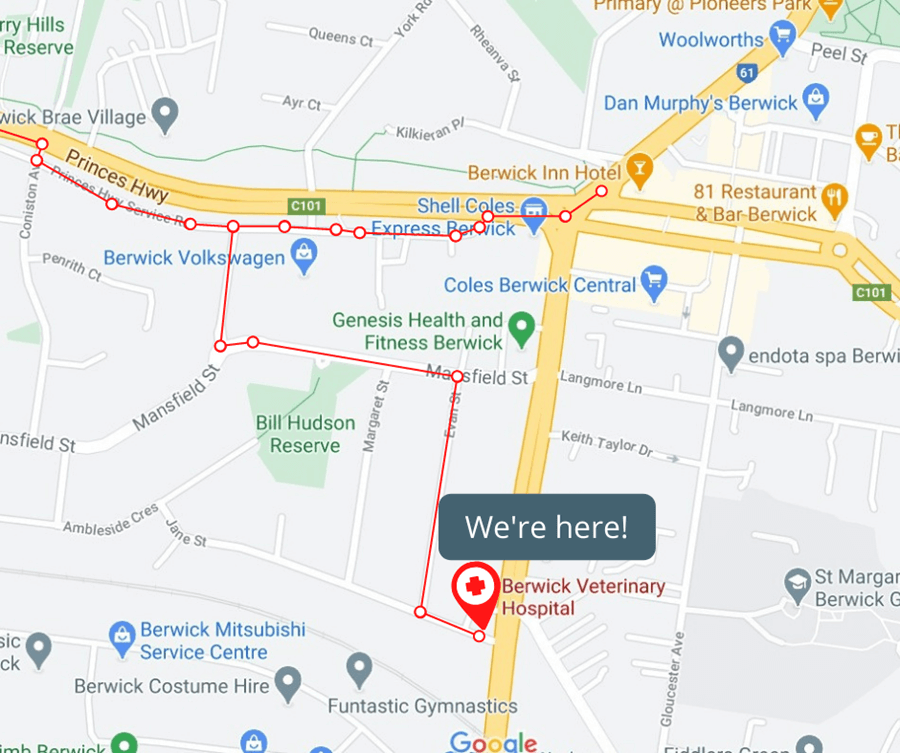 If travelling from Berwick, it is easiest to take the Princes Hwy Service Road on your left, immediately after going through the main set of traffic lights in Berwick (down past the car dealerships). Turn left onto Millwood Avenue, and continue as per directions above.
Cars are no longer able to make U-turns or right-hand turns into the clinic from the Clyde Road traffic lights out the front of the clinic. Instead, you will need to head down to Enterprise Avenue and make a U-turn there. Given the heavy congestion, we recommend you avoid this route, and utilise the back roads as described above.
Left-hand turns out of Jane Street onto Clyde Road are also currently not possible, so we have made our exit point to the car park two-way to enable you to more easily access the back roads when entering or leaving the hospital. 
If you need any assistance in planning the easiest route to our hospital, please don't hesitate to give one of our team a buzz prior to your visit on (03) 9707 2655.
We've got some exciting news in the works for 2021 to ensure our patients can easily access veterinary care throughout this period – keep an eye out for upcoming announcements!