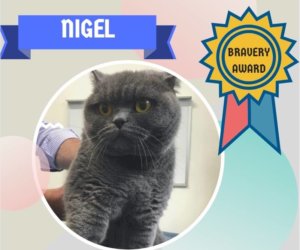 Nigel, the 3 year old british shorthair is our well-deserved Bravery award winner this month.
But dear Nigel had a naughty pistachio fetish. 
After presenting for feeling unwell and vomiting, X-rays were performed which lead to abdominal surgery on poor little Nigel. Surgery revealed an intestinal blockage caused by very hard faeces with pistachio remnants present.
Nigel has recovered well and was a super star during the entire experience. He is definitely a clinic favourite.
This is certainly a reminder to hide our Christmas treats this year!