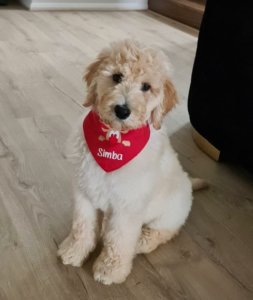 Hip dysplasia is the most common inherited orthopaedic disease in dogs and can affect many breeds. This condition ultimately leads to arthritis, which is painful and debilitating.
Here at the Berwick Veterinary Hospital we recommend Penn Hip screening of all patients, typically at 16 weeks of age to coincide with their desexing procedure. These series of hip radiographs are performed under a general anaesthetic. Detection of hip dysplasia at an early age allows early intervention and management. Dietary management, controlled exercise and preventative surgery in severe cases are all viable management tools for this disease.
This was the case for Simba the Labradoodle. He was admitted to BVH last month for routine desexing and Penn Hip screening. Unfortunately his radiographs returned an undesirable result – seeing him admitted back into hospital a couple of weeks later for a preventative surgery known as Juvenile Pubic Symphysiodesis (JPS).
A JPS is a minor surgical procedure that can be performed on puppies prone to hip dysplasia in order to try and improve the coverage of their hip joints. The procedure involves fusing the cartilage on the two sides of the pelvis in order to rotate the hip sockets into a more normal position. This helps to provide a better fit between the femoral head (top of the thigh bone) and the acetabulum (part of the pelvis). This procedure is best done on puppies between 16 and 20 weeks of age – the pelvis of puppies older than 20 weeks of age is usually too developed for the procedure to be successful.
We're pleased to report that Simba has recovered well from his procedure (although keeping his family on their toes with his playfulness).  We are working closely with Simba's family to implement several management tools including targeted exercise, joint diets, hydrotherapy and weight management to minimise the symptoms of this disease as he ages.
To learn more about Hip Dysplasia and Penn Hip screening give us a call, or click on the link below